I know it's a bit hard to believe with this toasty weather we're having but FALL IS NEARLY UPON US! With it, fall will bring crisp, cool evenings, pumpkin EVERYTHING and rich colors added to our Kansas landscapes. For family photographers (like myself) it will also bring a lot of  WORK WORK WORK! Fall is officially the busiest time of year for those who specialize in family portraits. No photographer enjoys turning away clients when their schedule is full, but unfortunately there are only so many days in the season. I have offered a few fall mini sessions every year in an effort to squeeze just a few more families into my schedule and this year I've decided that one date is just not enough, so I will be offering two fall mini session dates this year. A date in September as well as October! Both dates will be weekday evenings and will consist of three time slots. Today launches booking for my first date which will be September 22nd. 2014 – yep, the first day of fall! More info below including  pricing and available time slots. Since I only have a few slots available, booking could go quickly. Don't hesitate to contact me if you have an interest!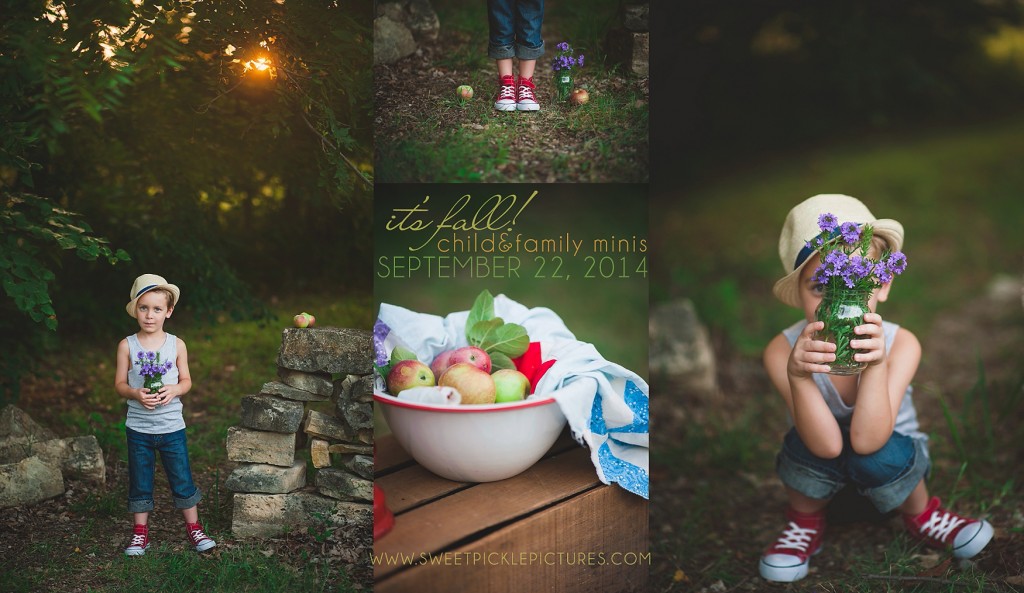 September 22nd Mini Sessions
Mini sessions are $169+ tax which includes a 20 minute session slot for 1-4 individuals as well as 8 fully edited digital images (available via online download once processing is complete) with a release to print up to 8×10 at a printer of your choice. Additional print/canvas orders may be placed through me after the session if desired. Location is TBD, although I'm leaning towards using a spot near my home about 20 miles north of Manhattan (so anticipate additional driving time as a possibility!) Although I'm sure it goes without saying – fall color comes much later in the season, so for these minis we will be looking instead at green, lush locations with pretty lighting if mother nature complies! I will also have some props and things on hand (similar to those pictured above) should you like them used in your session. These sessions can work great with smaller families, siblings or milestones!
Available time slots (I will try to keep these updated:)
UPDATE: All slots have been filled, thank you!! Announcement will be made on my facebook page when booking for the October date begins.
5:25PM
6:05PM
6:45PM
HOW TO BOOK:
Please use the "contact me" tab above and submit my contact form with your top two choices for time slots (if only one time slot is a possibility, please let me know that!) I will be booking these on a first-come-first-serve basis, so there is no guarantee that your chosen time slot will be available. Full payment of session total is required via paypal invoice at the time of booking to hold your slot.
IMPORTANT: In the event of rain or other cancellation, the makeup date for these minis will be Monday September 29th (retaining your original time slot.) Please make certain this date works for you as well before booking! This is Kansas and unpredictable weather happens! Our minis last year were rained out and rescheduled to our backup date, so compatibility is very important! In the event of a second cancellation, I will announce a new makeup date or reschedule on an individual basis. I will also likely cry, pout and curse mother nature.
Still interested in a mini session but the September date is not going to work for you? Mark your calendar if this date does – October 13th, 2014 (Columbus Day) will be my second and final date for fall/family minis this year. Watch my facebook page and/or this blog for an announcement when booking for that date has started!
Looking forward to having both new AND familiar faces in front my lens this fall. See you soon!!
Cristen