Happy 2017, friends! With the start of the new year comes studio season for Sweet Pickle Pictures! This year I'm going to get the ball moving with a round of sweet mini sessions themed for Valentine's Day. I will include some details about those below and at the very bottom of this post will be a special offer for studio simplicity sessions, so make sure to read through to the end!
Valentine's Day is a great theme for mini sessions and this year I've planned a fun and simple setup with a bit of sparkle! Faux white wood backdrop and floordrop will be paired with a gold heart banner (still in the works!) and a few sparkly props. I have some red props left over from last year too and will also have those on hand to pop a bit of color if needed! These sessions will be priced the same as my minis last year. Read on below the photo for full details!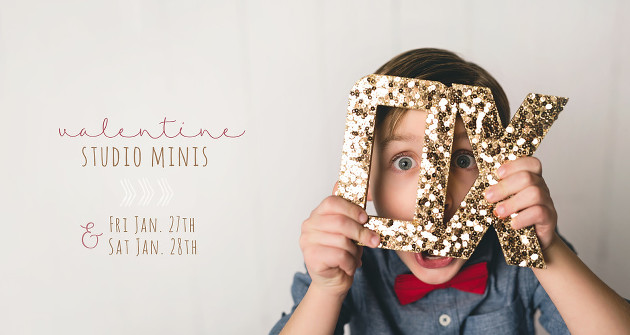 Yes, that's my kid up there being my ever-enthusiastic model.
Details!
What: 
Valentine's Day mini sessions in studio (where it's warm!) with a simple gold/white theme and a few fun props! See another shot of our backdrop below! (Banner and props are in the works still!)
When:  A few slots will be available each of the following days:
Friday January 27th and
Saturday January 28th
(Please note that a backup date will be issued in the event of personal illness or inclement weather.)
Where: 
My studio space located 20 minutes north of Manhattan, Kansas.
Who:
Due to the limited size and nature of these setups,  studio minis work best for children 6 months to 6 or 7 years of age. Older children may be booked with some restrictions. No adults or families will be photographed. Babies will need to be able to sit (assisted or unassisted.) These minis can be a cute and fun way to capture a milestone!
How much?
Individual slots will be $139+tax for a 20 minute session and 6-8 edited images printable up to 8×10 with my standard print release. Full payment is required at the time of booking.
Discounted rates available for siblings. Drop me a line for details!
How Do I book?
Booking will officially open this Wednesday, January 11th.
To book a slot, use the contact tab below to contact me and include your child's age(s) and gender(s)!  I will need to arrange slots based on how many individual vs. sibling bookings I get, so setting up slots beforehand won't be possible with these. Slot times will likely range from 11am to  2 or 3pm depending on the day. 6-8 slots will be available overall.
What other mini session opportunities lie ahead? 
Last year I offered both Valentine's Day and Easter mini sessions in studio. Due to schedule restrictions, I cannot promise at this stage that Easter minis will be available this year. If I do not arrange a second round of minis for Spring/Easter, these will be the only studio minis offered for 2017.
Want to capture your child's milestone without a theme? For the next 2 weeks I will be rebooting my "Small Business Saturday" offer of $50 off a studio Simplicity Session taking place January through March 2017. These sessions are 30-40 minutes long (minimum age 3-4 months) and include more final images than a mini session with my same standard print release. The promotional rate only applies to sessions with one child, but a sibling can be included at my regular rate! You will have your choice of any one of my backdrops/setups to coordinate with a special outfit of your choosing (or you can choose from a few options I keep in studio depending on age/size!) Simplicity sessions are limited to weekday bookings only and slots are available most weekday afternoons from 11am-2pm. For full package details, drop me a line via my contact tab below and please mention this blog post in order to score this discounted rate! Offer will expire January 24th, 2017! Retainer fee of $50+tax is due at the time of booking and your session must take place on or before March 31st, 2017. If you would like more time or setups in studio, ask me about the full studio sessions I offer! They are perfect for combining a 12 months cake smash session with some sweet before-the-mess portraits or capturing more variety with your milestone!
Looking forward to sharing studio season with some of you and looking forward to what 2017 holds for us! If you have any questions at all, don't hesitate to contact me!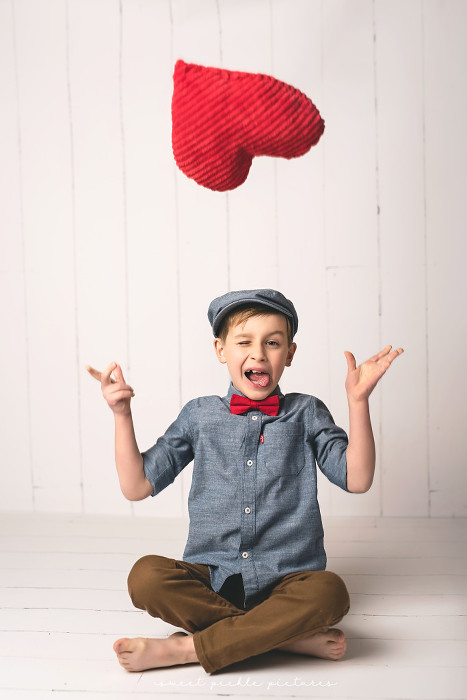 Another look at our backdrop (and my silly boy)